Victoria's cover band will bring rock classics to the public library | get out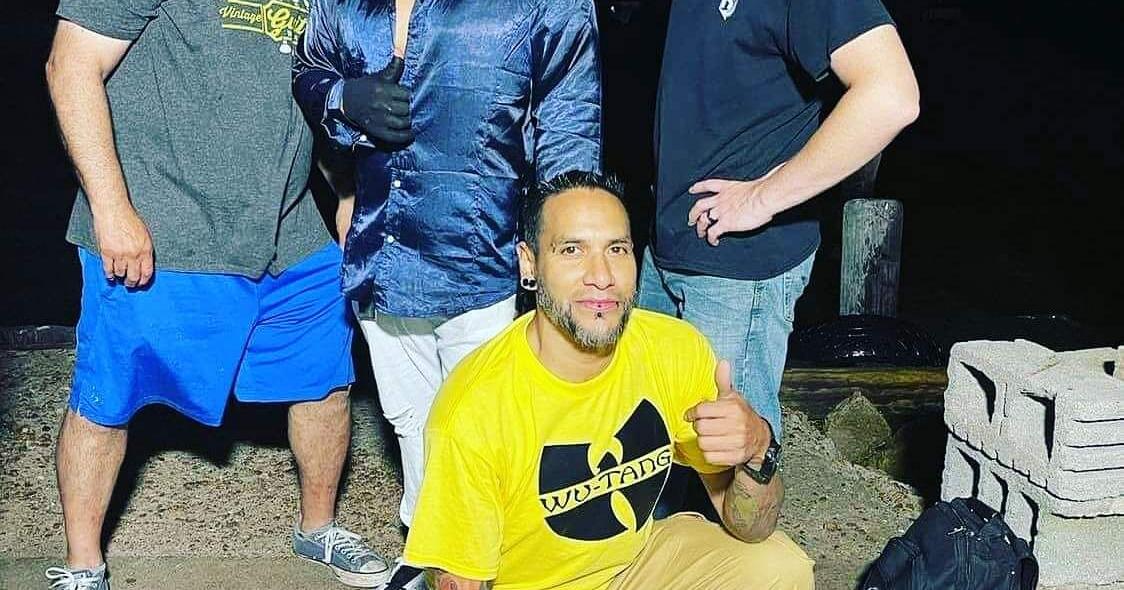 From a very young age, Mookie Espinoza wanted to be part of a rock band.
In the 1980s, Espinoza lived down the street from a few members of Acridity, a metal rock band from Victoria. Decades later, he still remembers how cool it was to hear the band rehearse. And it was even cooler when the band's 1991 album, "For Freedom I Cry" hit the shelves at local Hastings.
"I really looked up to them," Espinoza said Wednesday, adding, "I thought it was great. They were influenced by a lot of things I was listening to at the time."
These days, Espinoza, driver for Waste Management, is living his dream. Along with three other musicians from Victoria, Espinoza said he was blessed to fulfill his lifelong musical passions as a member of Delphine's Dream.
Delphine's Dream, a rock 'n' roll cover band with a huge repertoire including hundreds of modern and classic rock songs, is due to play VPL Jams at the Victoria Public Library at 7.15pm on Friday.
Delphine's Dream have been playing together for about 10 years, although they haven't always had their current name.
Rene Figueroa, the band's drummer and backing vocalist, said they chose the name somewhat haphazardly. The "Delphine" is borrowed from the name of Figueroa's wife. And the dream part came to them because the band strives to put on perfect "dream" level performances from their favorite artists.
Plus, Figueroa said, playing in the band has itself been something of a dream.
Much of that, Figueroa and Espinoza said, feeds off the energy of the crowd as they particularly dig into a song or set.
From Pink Floyd and Led Zeppelin to Coldplay and Modest Mouse, the band covers a swath of rock music spanning decades and styles.
The band members – who also include Joseph Reyes, lead vocalist, and Jim McCulloch, lead guitar and backup vocals – bring a lot of skill and experience to the table, so it's not hard for the band to choose from. new songs at a glance. hat.
"We are seasoned," Figueroa said.
This collective capacity allows the band to have at least 400 songs ready to play at any time.
Although Delphine's Dream's lineup can include all kinds of music, Figueroa said he and other band members have a soft spot for classic rock and pop from the 70s, 80s and 90s.
Some of Figueroa's most beloved influences include The Who, Journey, Rush and Van Halen.
Espinoza said he grew up with Metallica, Mötley Crüe, Anthrax and others. As a child, Espinoza lost himself in rock music and often listened to his boombox with his ear close to the speakers so as not to miss a thing.
Brianna Valenzuela, public services librarian at Victoria Public Library, said the library has featured many local bands and artists since they started hosting VPL Jams. The library began hosting the event during part of the pandemic when local bars and venues faced mass closures.
"We wanted to give local bands a chance to keep playing," she said.
Although the event is no longer purely virtual, it still provides a great platform to give local artists a chance to put on a show, she said.
It's a chance for local audiences to hear something new. The audience is made up of residents from all walks of life and all age groups. Many "never thought they would come to a (rock) concert at the library," she said.
Espinoza said he and other band members love performing in part because it's fun to practice a difficult song and nail it during the performance. There are few feelings like that, he says.
Friday, Delphine's Dream hopes to succeed again with its concert among the shelves of the library.
"That's what we worked for," he said.