McIntosh launches SACD/CD player and MCD12000 DAC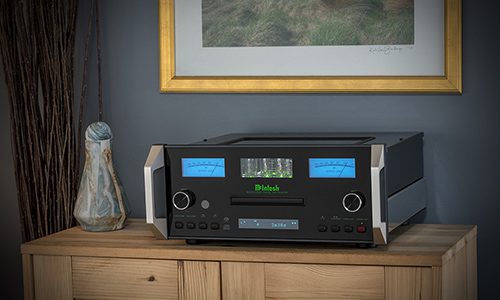 Offering music fans a new high performance combo source solution, McIntosh has announced the MCD12000 SACD/CD Player and DAC (digital to analog converter).
McIntosh claims its latest product serves homeowners as a reference-level DAC that includes SACD/CD playback capabilities.
Records or music played by the MCD12000 SACD/CD player and DAC are processed through the unit's eight-channel DAC circuit, and integrators can configure the player using its fixed balanced (XLR) analog outputs or unbalanced (RCA).
The New York-based manufacturer also explains that the MCD12000 also offers integrators or users the option of using the player's analog solid-state or vacuum tube output circuits to support owners' musical preferences, sound preferences or specific system configurations.
Internally, the player/DAC unit also incorporates a pair of ESS SABER PRO ES9038PRO 8-channel/32-bit DACs with a dedicated left-channel DAC and a dedicated right-channel DAC.
The unit also utilizes ESS' proprietary HyperStream II architecture and Time Domain Jitter Eliminator, as well as separate power supplies to keep the audio and power signals safe from cross-contamination.
Read next: Certified McIntosh MX100 Processor Control4
McIntosh says the rear panel of the combo audio component offers a choice of two coaxial, two optical, one USB, one AES/EBU and one MCT digital input. The coaxial and optical inputs support resolutions up to 24-bit/192kHz, and the USB input supports 32-bit/384kHz PCM, as well as DSD512 and DXD384kHz audio.
Taking a closer look at the tube output stage of the MCD12000 SACD/CD player, McIntosh indicates that this circuit uses a 12AT7 preamp tube and a 12AX7 preamp tube which are assigned to each of the left and right audio channels.
The solid-state output stage uses a discrete balanced op-amp, and the unit's power transformer features a purpose-built R-Core design to minimize noise.
McIntosh adds that the Roon Tested drive's disc transport features a die-cast aluminum platter that's supposed to provide smooth and quiet disc handling, and on the outside, the MCD12000 offers owners the company's classic industrial design. which includes a black glass front panel and a pair of 60dB output meters.
Publish