"Macross Frontier" Character Designer Designs Hatsune Miku CD Cover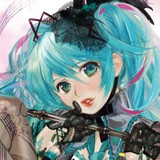 Following FAIRY TALEHiro Mashima for the singles of the 2013 vocaloild compilation "PASSING DAYS" and "COMING DAYS", on evangelization character designer Yoshiyuki Sadamato for Mitchie M's 1st major album "Greatest Idol" released in August 2013, Japanese animator Risa Ebata designs her own version of Hatsune Miku for the CD cover of SmileR's 1st album "Melody Line (s) ", which is slated to be released in Japan on April 23. She is best known as the character designer for the Macross border series.
The vocaloid song producer started his career with a techno pop song "Melody Line" on Nico Nico Douga in November 2010. His first major album "Melody Line (s)" features 20 songs with Hatsune Miku on vocals. He passionately asked Ebata to draw Miku for his album cover art and after listening to the songs on the album, Ebata illustrated his Miku using them as inspiration. How do you like it and who is
your favorite Miku below?
Cover illustration "Melody Line (s)" by Risa Ebata
Sketch
Cover illustration of "The Greatest Idol" by Yoshiyuki Sadamoto
Cover illustration of "PASSING DAYS" by Hiro Mashima
Cover illustration of "COMING DAYS" by Hiro Mashima
Source: Nathalie
(C) Crypton Future Media, INC. www.piapro.net