Group Celebrates Kikaida's Birthday With Theme Cover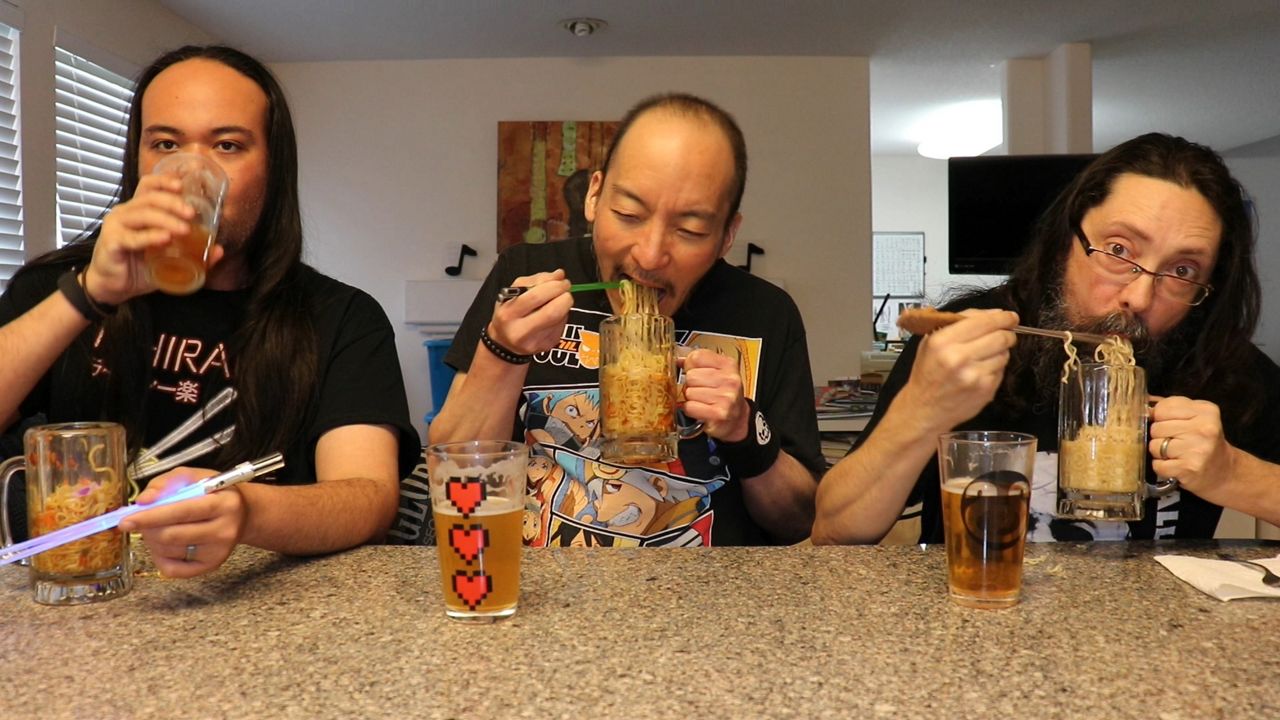 To say that former Hawaii resident and current Vancouver, Washington, musician Brian Tashima has been prepping for his band's latest project his entire life is only a gross exaggeration.
He started in kindergarten.
It was then that in the middle of a long-forgotten lesson, Tashima stood up and, completely unasked, volunteered to sing the theme song for the Japanese superhero show Kikaida.
His teacher, his name also long forgotten, graciously agreed and Tashima, at the top of his voice, intoned the Japanese lyrics well known (if only phonetically) to any self-respecting child – boy or girl, Japanese or not – growing up in Hawaii in the early 1970s.
"I don't think it was part of the teacher's lesson plan for the day, but she was nice enough to make me happy," Tashima, 52, said. "So that experience, along with the fact that Jiro (Kikaida's human form) played guitar, is probably what got me into singing and playing guitar in a band.
"Jinzo Ningen Kikaida" ran for 43 episodes from July 8, 1972 to May 5, 1973, on NET network now TV Asahi) in Japan. It aired as "Kikaida" on the Hawaii-based Japanese language channel KIKU beginning in February 1974. On the 50th anniversary of this week's show, Tashima and his pop-punk trio Second Player Score released a cover version of "Go, Go, Kikaida", a howl away from Tashima's a cappella version at Kaala Elementary.
The crisp, adrenalized croon-along/shout-along is the lead single from the band's new EP "Beer and Ramen." linkco.re/FaxvbT8V?lang=en
"Go Go Kikaida" was written by Shoutarou Ishinomori and Watanabe Michiaki, and was originally performed by Yuuki Hide with Columbia Cradle Club. The Second Player Score version, along with the rest of the "Beer and Ramen" EP, is available on most major streaming platforms exclusively through TuneCore Japan, or on CD.
A graduate of Campbell High School and the University of Hawaii at Manoa, Tashima was a leading figure in the 1990s rock scene in Hawaii, performing regularly at Wave and other venues with the Tone Deaf Teens and operating independent label Crash the Luau which brought to market recordings of Seven Degrees North and local punk mainstays Tweaked. Tone Deaf Teens won a Na Hoku Hanohano award in 1995, the first year the awards offered a rock category.
Tashima moved to Washington in 2000 and formed Second Player Score with fellow Hawaiian transplants Daniel Downs and Kyle Gilbert in 2012. The group has released four CDs, including 2019's sprawling concept Glorified, which spawned a series of limited edition manga.
Tashima is also the author of a series of science fiction books for young adults featuring a musically inclined protagonist who happens to be on the autism spectrum. Originally written for her son Torin, who has Asperger's Syndrome, the series has found a large following of YA fans.
Tashima's interest in recording a version of "Go, Go, Kikaida" comes amid a mid-life reconnection with his Japanese heritage and late discovery of Japanese manga and anime. .
The original Japanese series, about a robot created by a scientist to protect his children from the evil organization holding him prisoner, was an unlikely immediate hit in Hawaii. It was first embraced by a generation of local Japanese-American schoolchildren who watched the show on the same channel that aired popular Japanese shows enjoyed by their parents and grandparents, and soon after by children. from across the state captivated by the playground chatter and engaging merchandising that attended. its growing popularity.
For Tashima, the show was every bit as impactful as the original Star Wars.
Like many young fans, Tashima was captivated not only by the savage costumes, creepy villains and extended action scenes, but by the very Japanese undercurrents of darkness, internal strife and soulful melancholy. .
"I was mesmerized by it," he said. "The appeal was that it was safe for kids, but it wasn't saccharine. There was pathos in there.
The hero himself was remarkably complex for such a young audience. Dressed in jeans, playing a guitar and riding a Jiro motorcycle for a minute, he would, with some irresistibly imitable calisthenics, transform into his true blue and red robot form when confronted by the villain of the week and his manufacturing. – minions to ship.
"He was the flawed hero," Tashima said. "He struggled to be good, but there was a darkness to him, the kind of trope you see a lot in entertainment for older audiences. In the end, they have to go back into the darkness to finally work things out.
Tashima can enjoy the homecoming story.
Kikaida aside, Tashima said he spent much of his teenage years and young adulthood carefully avoiding interaction with his Japanese heritage, even thumbing his nose at Japanese school. , frequented by many local Japanese children.
"It was a pride for me," he said, laughing.
Tashima took two years of Japanese language while attending the University of Hawaii, a matter of pragmatism for many business leaders in Hawaii in the 1980s, and visited Japan on a scholarship . But it was only three years ago that he remembered another Japanese children's series airing in Hawaii, Ikkyu-San, based on the so-called real childhood of a famous monk. Buddhist, and did a search on YouTube. This ultimately led to Netflix taking a very deep dive into other, more contemporary Japanese anime.
Tashima found that he loved art, stories, J-pop and J-rock soundtracks. He was hooked.
And as often happens, what captures Tashima's interest and imagination eventually seeps into his music, first through a Stereopony cover at the band's live shows and now the "Beer and Ramen" EP. ", which in addition to the "Go, Go, Kikaida" The cover also includes covers of "Ue wo Muite Arukou" (more commonly known as "Sukiyaki" in the United States) and the Stereopony hit "Hitohira no Hanabira", as well only two original songs from the band's "Glorified" CD, re-recorded with translated verses in Japanese.
"As I got older, I became more and more interested in my heritage as well as Japanese language and culture in general," Tashima explains. "So it seemed fun and natural to do a project like this. I still only speak tourist-level Japanese, but I'm working on it.
Michael Tsai covers local and state politics for Spectrum News Hawaii.