GINGER WILDHEART & THE SINNERS release new single, a cover of Georgia Satellites' "Six Years Gone"
Ginger Wildheart and sinners dropped a cheerful blanket of Georgia Satellites "Six Years Gone," which appears on the band's debut album, will be released October 7 via Wicked cool records.
Of the cover, which was the first song he wanted to record when the group was in its infancy, Ginger says, "I became a bit obsessed with the song while in Los Angeles for Lemmy's funeral, and carried it in my heart from then until we all gathered at the studio."
Stream the track here: https://orcd.co/sixyearsgone
The upcoming self-titled LP is an energetic album that celebrates rock 'n' roll, and as Ginger explains, it's in "the spirit of the music that we all collectively love, from childhood to the present day. Little Feat, The Allman Brothers, Wilco, The Band, Creedence, The Jayhawks, Lone Justice, Jason & the Scorchers, Georgia Satellites, Status Quo, The Stones… from country roots to rock n roll and Americana.
Ginger Wildheart & The Sinners were formed in August 2019 when Ginger teamed up with Neil Ivison and Nick Lyndon Of the band Stone Mountain Sinners. The lineup was completed by the drummer Shane Dixon (Tri-City Marching Band) and as Ginger explains "Me and The Sinners met for the very first time in the studio, in preparation for recording an album together. We realized that if we couldn't get along, the music would ultimately be worthless. So we're we went to the pub and we got drunk together. The next morning the music started flowing smoothly. It's the sound of friendship.
The album was recorded at Mwnci Studios in Pembrokeshire, Wales, with dave draper produce.
The LP kicks off with lead single "Wasted Times", which sets the tone for an album of pure rock n roll, sprinkled with country touches. The listener will find seven other original songs, including "Lately, Always" plus two covers: "Dirty Water" by status quo and "Six Years Gone" from Satellites of Georgia.
There's a refreshing, familiar sound to every song on the album and it's a masterclass in how to write heartfelt melodies.
Despite the turmoil we find ourselves in, Ginger with her Sinners gives us hope. Go or get out.
Ginger Wildheart & The Sinners must-see debut is available to pre-order/pre-stream here:

https://orcd.co/gingersinners.
Upcoming UK Tour Dates in October: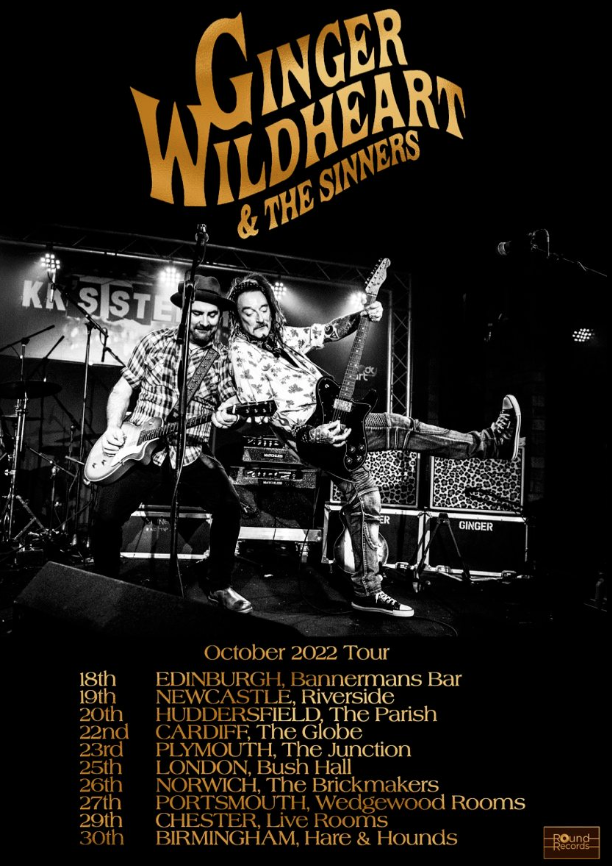 www.facebook.com/gingersinners
https://twitter.com/ginger_sinners
www.instagram.com/gingerwildheartthesinners