Dunedin's new record store uses music to bring people together | North County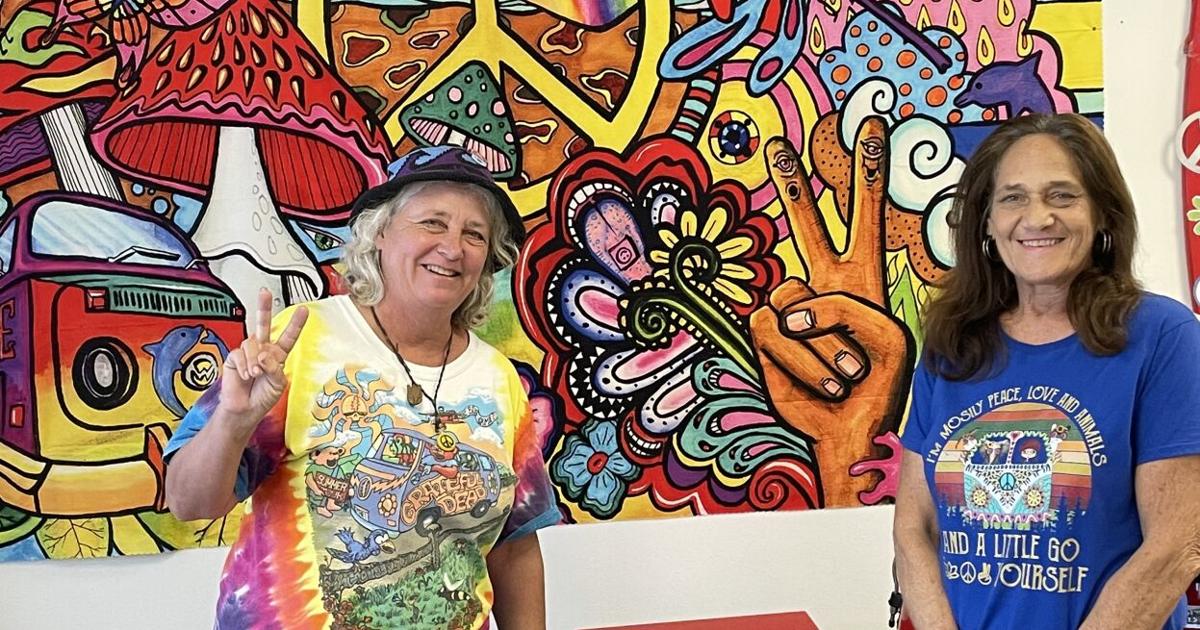 DUNEDIN — At a time when record sales have plummeted dramatically over the past 20 years, record stores are becoming almost as rare as a California condor.
But Daniela Smyth and Jody Dale created more than a record store when they opened D&J Records in Dunedin. They have created a community gathering place with a certain 1960s and 1970s flavor that includes artifacts and posters that bring visitors back to Woodstock.
Tucked away in the Patricia Square Mall on Patricia Avenue is a place where musicians can jam, where music fans can browse records that include those from the Rolling Stones to Julie Christie, and where friends can hang out and talk of life, the universe, and the intricacies of The Who Live at Leeds.
"There are still a lot of people out there who want to buy records," said Smyth, whose store includes new releases, LPs, CDs and, a blast from the '70s, cassettes. "Even IKEA sells record players now. But I wanted to open a record store where the community could hang out. I wanted a place where musicians could jam and where young people could learn about Frank Sinatra.
Smyth, who was 3 years old in Woodstock, said his own musical tastes lean towards the B-52s, the Cranberries, the Beatles and George Harrison's "All Things Must Pass" album. She said the concept of a community store worked so well that people were lining up to enter the store "the minute we turned on the 'Open' sign."
Co-owner Dale, whose favorite band is Aerosmith, said when people arrive they enter a "happy place".
"People come here happy, and when they leave they're happier because they have music," she said. "It's just a happy place because everyone loves music."
The happy place is also free from negativity in the world, Smyth said, and it's the music and sense of community that makes D&J Records a unique place where people can chat about whether Keith Moon or John Bonham was the best drummer.
"You get a real cross-section of the community," Smyth said. "You get all kinds of people here. Trump supporters, Biden supporters, but they're all brought together by the music. They are able to communicate through music. Music is something we all have in common.
Smyth, a former employee of the town of Tarpon Springs who for a time ran the town's Sunset Beach concert series, thinks D&J Records can be an active member of the Dunedin community. For example, Smyth and Dale, who are neighbors in Dunedin, started the "chair program" in which people use their artistic talents to paint designs on chairs that are sold for charity. In fact, the project raised $10,000 for a 3-year-old child with leukemia.
Smyth's vision for the store began when she worked for another local record store. She pulled money from her Tarpon Springs pension to launch D&J Records, which officially opened with a ribbon cutting earlier in June, and she thinks she did the right thing.
"It was worth the risk," she said. "I wanted to create a place where you could have a jazz jam session if you wanted. People keep coming so it has to work.
The store itself is a trip to the 70s. Music posters, including a 3D Beatles "Rubber Soul" album cover, and displays of new and old records – many of which are LPs – adorn the walls . It's not a man-made mall-style "Galaxy of Sound," it's an authentic piece of nostalgia that appeals to everyone from local college punk rockers to walk-in diners at a nearby Thai restaurant. and quite simply to lovers of old records.
Music fills the air and the store is adorned with chairs to listen to jam sessions or to sit and talk music. The store attracts a diverse clientele.
"We had a young lady looking for a Julie Christie album, and we had three," Smyth said. "I asked her why someone her age would be interested in the Julie Christie album, and she told me that Billie Eilish said she was influenced by Christie, so this young woman wanted to know more.
"We have people coming here for Pink Floyd and Lynyrd Skynyrd, but we also have people coming for Barbra Streisand or hard-to-get records."
So with declining record sales, why would anyone want to open a record store?
"We want it to be a place where people from the community can congregate," Smyth said. "We hope all our customers will become friends."