Cows and calves at $4,300 at CQLX Gracemere store sale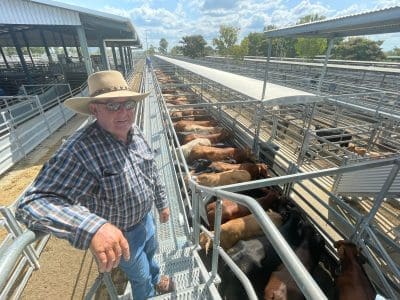 DEMAND for quality breeding stock was in full force at the Central Queensland Livestock Exchange Store and Prime Sale on Wednesday, where a line of Brangus and Charbray cows and calves fetched $4,300/unit.
The sale marked a back-to-back auction for Bayfield Cattle Co seller Biloela, leading the category with its breeders.
Justin Rohde, Nutrien Ag Solutions Rockhampton, said the superior quality of the range, combined with favorable seasonal conditions, led to this exceptional result.
"Right now growers have a lot of grass in their paddocks and there are forecasts for more rain, so when premium breeder lines come in, there is a high demand from growers who build their herd," Rohde said.
In total, the CQLX skid rose 522 head from the previous auction to 3,908 head, largely because last week's sale did not take place due to the Australia Day bank holiday. .
Cattle came from Collinsville, Alpha and Mt Larcom as well as the local area.
Restocking demand fueled the steer market, and cattle under 200kg averaged 801c/kg and peaked at 878c/kg.
Highlights in the 200-280kg class, which averaged 766c/kg, included a Nullegai Grazing, Marlborough, Charbray cross-steer pen which reached 834c/kg and weighed in at 247kg to fetch $2065/head.
The dingo seller, S Hoare, earned 850c/kg for a Brangus pen which weighed an average of 241kg or $2052/head.
EJ Woodard, Duaringa, received a return of $2378/head for his 290kg offer of Brangus which peaked at 820c/kg.
A highlight in the heifer category was an LE and CD Stewart, Comet, breed of EU accredited Speckle Park heifers that hit 738c/kg and weighed 240kg to fetch $1776/head.
Baralaba seller J Goudie returned $2166/head for his 374kg Brangus heifers which peaked at 578c/kg.
R and J Jacobsen, Marlborough, hit 568c/kg for a 349kg line of Brangus females, which fetched $1,983/head.
The main market also performed strongly, with overall yardage including good lineups of oxen and cows.
Cow prices peaked at 395c/kg.
W Baker, Goovigen, sold a Droughtmaster line for 394c/kg, which weighed 618kg or $2437/head.
Nebo's seller, Beeblee Pastoral, also did well for his Brangus cows, reaching 392c/kg for a 578kg pen for a return of $2269/head.
Looking ahead, Rohde was confident that the promising market trends would continue into next week's selloff.
"If we get the forecasted rain in the next few days, it will certainly further boost the confidence of restock buyers, who are leading the market at the moment," he said.
Source: CQLX